In support of the 2018 Ohio MS ride, we are selling tickets to Team Left Hand/Century Cycles "Bike Raffle" Fund-raiser.
$999 Renegade Explore
$10 for 1 ticket, $25 for 3 tickets.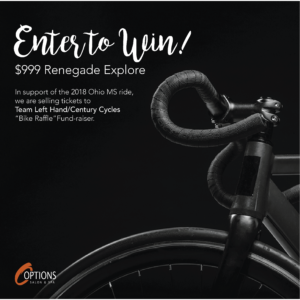 The drawing will take place the week of August 4th.
Team Left Hand/Century Cycles is a group of employees and friends dedicated to solving the riddle that is Multiple Sclerosis. Left Hand Brewing Company and Century Cycles have again partnered for our 4th year riding in the Buckeye Breakaway, a fully supported ride along scenic backcountry roads from Brunswick to Ashland.
Want to Join the Team?
Learn More @ facebook.com/groups/teamlefthandohio
Enter to Win!