Explore your options… Experience the difference
At Options Salon & Spa our experienced and dedicated staff is ready to care for your individual needs in a pleasant and professional atmosphere. We offer luxury services at affordable prices in a friendly, convenient, and clean salon and spa. Choose from our many service options to look and feel your best.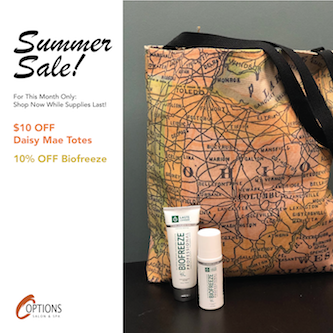 $10 OFF Daisy Mae Totes and 10% OFF Biofreeze!
This month only! Shop now while supplies last!
New at the Boutique

Chirpy Tops, Daisy Mae Designs, Plum City Design, Piper Lou
Also jewelry & vintage headbands from companies such as, Lydia's Vintage, KaraLyn Street, Gypsy South, and Rachelmade.
Options Salon & Spa is featured in Cleveland Magazine's 20 Best Northeast Ohio Spas

Options Salon and Spa is thrilled to be sponsoring the annual Bike MS Fundraiser! We have partnered with Team Left Hand to raise $500 by the August 1st, 2019. Our owner Kathy is a proud rider of four years and is constantly trying to push herself to bike harder and increase her goal. If you want to join our efforts, please donate or jump on a bike yourself! Its a journey you'll be proud to be a part of!
We will be accepting donations at the front desk. We will also be partnering with Century Cycles, who are raffling off two bikes (Women's and Men's) in their own donation efforts. We will be selling raffle tickets at the front desk if you would like to enter to win!

Color Specialists, Certified in Keratin and Shellac