Keratin Complex Smoothing Therapy
Are you tired of having hair that is unmanageable and frizzy?  Do you want your hair to be softer, smoother, and have more shine? Look no further, Keratin Complex Smoothing Therapy is the answer.
This revolutionary smoothing system infuses Keratin deep into the hair cuticle, reducing up to ninety-five percent of frizz leaving the hair smooth, shiny and luxurious. Results typically last 3-5 months. An added benefit to the Keratin Complex Smoothing Therapy is the more you treat your hair, the healthier it becomes. The Keratin built up on the hair with each treatment leaves your hair:
Smoother and silkier
Straighter and shinier
Easier and faster to blow dry
Close to being "maintenance-free"
Keratin Complex Smoothing Therapy encases the hair follicle with a keratinous bond to:
Promote healing
Block the effects of humidity
Prevent environmental toxins from entering the hair.
Keratin Complex Smoothing Therapy is gentle enough to use on all hair types: color treated, chemically processed, bleached or highlighted. Our Keratin Complex Smoothing system is the only smoothing system that is OSHA complainant and does NOT contain formaldehyde.
This service starts at $360 and also includes a complimentary Keratin Care shampoo and conditioner 13.5 oz. It is recommended that you use the shampoo and conditioner to ensure optimal results.
Try the Keratin Complex Express Blow-Out which is a temporary treatment that lasts 6-8 weeks. Price starts at $175 (includes complimentary Keratin shampoo and conditioner).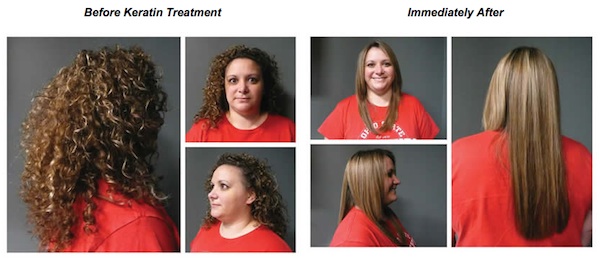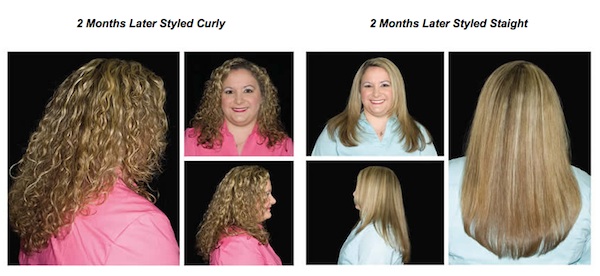 Testimonials
All my life I've only been able to wear my hair one way – CURLY! My choice of style – long or short, that was it. Hair this curly is impossible to do anything with. When I came in for the Keratin Treatment, I expected only relaxed curls. Never in my wildest dreams did I expect the option of STRAIGHT hair: soft, silky, straight hair! Hair that made me feel like an adult, and hair that made me feel beautiful. Hair that allowed me to wear hats, I love hats! But, finally, the most important thing keratin has given me is options. Thanks Options Salon & Spa for making me feel more beautiful than I have ever felt before.
-Andi Koppa (pictured above)
I absolutely LOVE the way the Keratin Treatment made my hair smoother and shinier, and even added length. A wonderful product!
-Athena Bedell