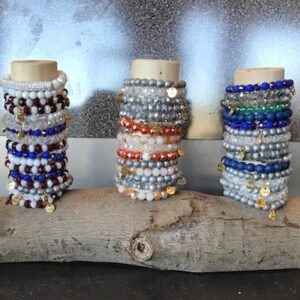 We started exploring accessory options the beginning of this year. We are thrilled to see clients loving them. We were inspired and have only gotten more passionate.
You will continue seeing one of a kind items. Our current collection includes hair accessories, bracelets, unique items made from recycled leather boots and belts. Just in: burlap totes, wristlets, coin purses and weekender bags are among our current collection. Our space is limited and so are the items.
We encourage you to stop by weekly as our items are going quick.
Trending you will find the popular up and coming Erimish stackable strands. This collection leaves the buyer with endless creativity. Hot right now is the Game Stackers. We are having a hard time keeping the CAVS and Indian stackers in stock.